FIELDS OF LAVENDER: 'SUMMER BEAUTY, SUMMER ENERGY'
It is a sad fact, just as our lavender fields reach their full beauty, harvest begins and the moments of billowing acres of purple flowers, we have waited for all year, begins to be lost. Harvest can start anytime from late December to mid January, but one thing is for certain once it starts it is on for one and all and despite the mixed emotions about seeing the beauty vanish we all love the new energy of production it brings.
---
SNOWY RIVER LAVENDER HARVEST, 'WELCOME TO THE MACHINE'
There is a type of romance in harvesting a lavender field with sickle in hand; there is the camaraderie, the sheer sensual pleasure of being up to ones arm pits in lavender flowers, the beauty of the insect world, the excitement of filling a truck with flower and riding high on the load to the distillery. This said, it is also hard work in the summer heat and it requires a lot of good will from family and friends because if there is one truism of harvest time, it is 'many hands make light work'. For many years at Snowy River Lavender this was the picture, but as we pressed towards a commercial scale increasing our acreage under cultivation, the romance had to give way to the pragmatics of the higher levels of production.
December 2009 saw the arrival on farm of our bright blue and yellow harvester from France and while this was not the most auspicious year to start work due to spring heatwave conditions which stunted flower development, it was quickly perceived a godsend. Our good will towards the harvester has only been reinforced in the years of harvest since. In terms of increased efficiency, half an hour of harvesting with the machine generally equals 6-8, skilled, person hours of harvesting with a sickle.
Over time the logistics of the harvest will change as each year our production area grows and with this growth the impending need to upgrade our distillation facility. The important thing is that the, basics of this harvesting machine is top notch and it will allow this shifting scope of demands to be met. Thus while some hand harvesting will always be part of harvest on Majesse Estate, now it is limited to, young plants, small plots not designed for the harvester and tidying up after the harvester.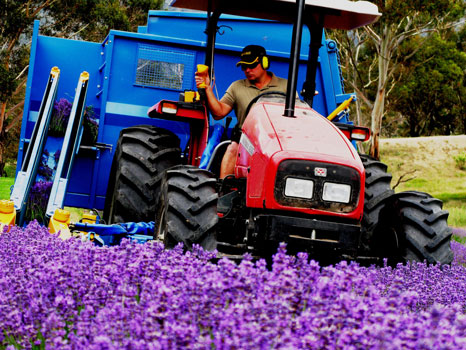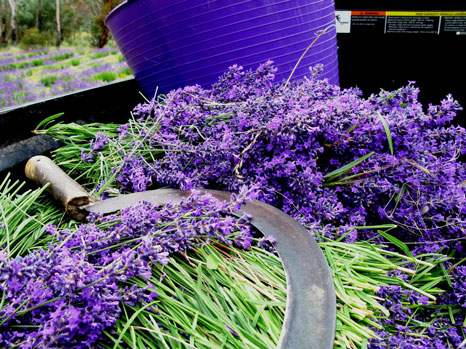 TIMING HARVEST FOR ESSENTIAL OIL PRODUCTION
Timing the harvest is a key determinant in achieving character, quality and yield in our essential oil production. The stage of flowering is pivotal in this decision with nectar feeding insects such as honeybees central in how the timing of the flowering process plays out.
HAND HARVESTING LAVENDER
The traditional method of harvesting lavender is by sickle. Between 2003 & 2010 this was the primary method of harvesting at Snowy River Lavender.

READ MORE
MACHINE HARVESTING PROCESSES
Since 2009 our primary means of harvesting is by way of a specifically engineered machine.
CLIMATE & HARVEST
Farming is not only about good times it is also about rolling with the punches and making the most of what 'nature' offers. The variability of climate is a major determinant of every harvest.