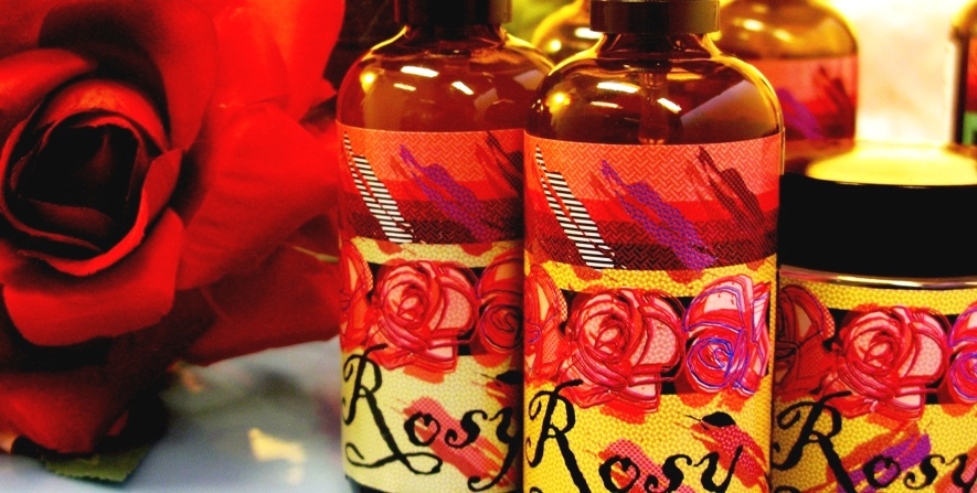 Rosy in Amber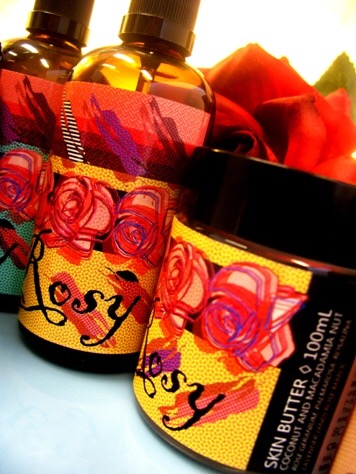 Rosy in Amber – BOTANICAL SKINCARE
With a joie de vive inherent in the aromatic vivacity of our 'rosy' essential oil blend, and, in the vibrant and colourful 'boho' aesthetic of the labels, the Rosy in Amber range of botanical skincare is for those who embrace the colour of life and its earthly bounties.
From our early days of selling botanical skin and personal care formulations at markets and festivals, the Rosy range has been a favourite with our customers. The Rosy in Amber collection has developed out of this popularity as a standalone range centred on our blending of the uniquely gentle essential oils: Rose Geranium, Palmarosa, Snowy River Lavender, Rosalina and Rose Maroc Absolute.  With a beautiful complex 'rosy' fragrance, this blend of essential oils are also the potent heart within each formulation, possessing revitalising, regenerative and harmonising benefits of care for skin and hair.
The special vitality of these essential oils is further supported in each formulation by various premium hydrosols, plant oils, butters and extracts. The outcome is authentic botanical products which are beneficial for all skin types with special benefits for skin (young and mature) which has become dry, damaged, inflamed or unbalanced.
Rosy in Amber is an artisan range of care products, formulated and crafted in Majesse Aromatherapy Studio. We produce this range in short runs so we can bring them to you with ingredients at their optimum, maximising the benefit to you.
The Rosy in Amber collection is now available in our online shop.
View the Rosy in Amber Collections Products by Category
Features
Botanical skincare with an aromatherapy focus of care, meaning the beneficial properties of specific essential oils and hydrosols are central to formulating each Rosy in Amber preparation.

The Rosy in Amber essential oil blend has an aromatic beauty reminiscent of roses with an earthy peppery complexity. Rose Geranium and Rose Absolute bestow a floral effervescence, with Rosalina and Palmarosa giving the bright earthy notes. Lavender binds and balances these aromas into a fragrance which both calmly harmonises and lifts the spirit.

Premium essential oils are sourced and respected holistically, as naturally complete agents derived from plants through distillation methods and capable of nurturing the natural vitality and beauty of skin and hair.

The Rosy in Amber essential oils with their provenance are: Rose Geranium (Pelargonium graveolens- Kenya); Palmarosa (Cymbopogon martini- Organic, India); Rosalina (Melaleuca ericafolia – Organic, Koree Herbs, Australia); Lavender (Lavandula angustifolia v. Pacific Blue – Snowy River Lavender, Australia); Rose Maroc Absolute (Rosa centifolia – Morocco).

We respect that plant chemistry is naturally subject to variations due to its provenance, seasonal variations and species diversity. No artificially standardised or commercially enhanced essential oils are used.

As a specific synergy the Rosy in Amber essential oils create a gentle harmonising potency useful for all skin types. There is a special benefit for skin (young and mature) which has become dry, damaged, inflamed or unbalanced.

The special vitality of the 'rosy' essential oils, are variously supported and enhanced in each formulation by premium plant oils, butters and extracts. See online product sheets and labelling for the specific listing, and properties, of ingredients in each product.

The Rosy in Amber essential oils may assist to balance and regulate the skin's inherent regenerative processes including sebum production making them beneficial for a wide variety of skin types and conditions.

xxx

combat the visual signs of ageing by stimulating cell renewal and collagen production, strengthening, revitalising and promoting skin elasticity.

xxx

enhance the skin texture and complexion by way of a natural astringency and a tonic effect which revitalises, tones and smooths.

xxx

enhance the skin texture and complexion by way of a natural astringency and a tonic effect which revitalises, tones and smooths.

xxx

cool and hydrate the skin, reducing redness, the appearance of broken capillaries and calming the effects of inflamed, irritated and damaged skin.

xxx

protect skin against bacterial and fungal attack

xxx

stabilise symptoms brought about by hormonal fluctuations at any age (from teens to mature)

xxx

calm, regulate nervous tension and relieve stress
Creams & Lotions from the Collection
Product
Description and Properties
Uses
Size
Rosy in Amber - Jojoba, Rosehip & Coconut Face Cream
more info

Best For: Skin refining and revitalising (pH, hydrosol and essential oils), nourishment (plant oils rich in EFA and omega 3, 6 & 9) anti- oxidant rich (plant oils rich in Vitamin E & A), hydrating (Rose, Aloe Vera & Oat Protein), conditioning (Aloe and Olive Squalane) and regenerative with improved skin strength and elasticity( hydrosol and essential oils)

Use: Daily

Emulsion Properties: Refined medium weight, non greasy cream – pH 5.5

Skin type: All skin types

Skin Effect: Smooth, hydrated, plumped and satiny

Aromatherapy: Rose Geranium, Palmarosa, Rosalina, Lavender, Rose Maroc (EOC 1%) protective, hydrating and revitalising, rejuvenation, harmonising, uplifting, aromatic luxury

Key   Botanicals: Lavender Hydrosol, Aloe Vera, Coconut Oil, Jojoba Nut Oil, Olive Fruit (oil, squalane, waxes, esters & extracts), Non emulsified Rosehip Oil, Calendula Extract, Oat Extract and (Pink Clay)

Botanical Derivatives: Solubilisers: Caprylic/Capric Glucoside (Sugar), Preservatives: Gluconolactone (and) Sodium Benzoate, Filtrate (Corn), Sambucus Nigra Fruit Extract (Bearberry), Leuconostoc/Radish Root Ferment Filtrate (Radish); Anti Oxidant: Natural Vitamin E , Emulsifier: Olivate Sorbitan (and) Cetearyl Olivate (Olive Fruit)

Face, Neck & Décolleté
100mL
Rosy in Amber - Argan, Macadamia & Rosehip Oil - Enriching Night Cream
more info

Best For: Intensive moisturisation, nourishment and conditioning

Use: Nightly to promote and maintain natural beauty of skin

Skin type: All skin types

Emulsion Properties: Satiny smooth medium weight cream emulsion pH: 5

Skin Effect: Non greasy and easily absorbed and leaves the skin feeling soothed, nourished and conditioned without residual greasiness. Balances the pH of this cream to support the natural acidity of healthy skin

Aromatherapy: Rose Geranium, Palmarosa, Rosalina, Lavender & a hint of Rose Maroc (EOC 1.5%) protective, hydrating, revitalising and assists skins deeper regenerative process

Key Botanicals: Hydrosols: Lavender and Rose, Aloe Vera, Macadamia Nut Oil , Argan Nut Oil, Rosehip Seed Oil ,Glycerine*, Olive Leaf Extract*, Olive Oil (squalane, waxes, esters & extracts), Oat Protein , Calendula Extract, Caprylic/Capric Glucoside, Vitamin E (Natural Tocopherol 50 & Helianthus annuus (Sunflower) Seed Oil), Guar Conditioner, Behentrimonium Methosulfate (and) Cetearyl Alcohol and Gluconolactone (and) Sodium Benzoate,

Face, Neck & Decollete
100mL
Rosy in Amber - Argan and Coconut Oil - Eye Cream
more info

Best For: Nourishes and refines delicate skin

Use: Daily Use

Skin type: All Skin Types (for use around the eyes)

Emulsion Properties: Light cream emulsion pH 5

Skin Effect: Non greasy and easily absorbed, this cream with prolonged use will improve skin strength, elasticity and texture

Aromatherapy: Lavender, Rose Geranium, Palmaros, Rosalina, Rose Maroc Absolute (EOC 0.15 %) Minute levels for cellular revitalisation

Key Botanicals: Hydrosols: Lavender, Rose, Aloe Vera, Coconut Oil, Watermelon Seed Oil, Argan Nut Oil, Evening Primrose Oil, Glycerine*, Olive Wax LQC (Cetyl Palmitate, Sorbitan Palmitate and Sorbitan Olivate), Olive Squalane, Olive Leaf Extract* Olive Oil (squalane, waxes, esters & extracts), Oat Protein, Calendula, 1% Vitamin E (Natural Tocopherol 50 & Helianthus annuus (Sunflower) Seed Oil), Gluconolactone (and) Sodium Benzoate.

Around the eye
50mL
Rosy in Amber - Watermelon Seed, Evening Primrose and Jojoba Oil - Face Lotion
more info

Best For: Skin hydration, enriching (omega 3, 6 & 9) restorative, pH regulation, the revitalisation of complexion, refines skin texture and aromatic luxury

Use: Daily

Skin type: All skin types (special benefits for oily)

Emulsion Properties: Easily absorbed, light refreshing lotion – pH 4.5

Skin Effect: Hydrates, smooths, softens, improves skin strength, elasticity & complexion

Aromatherapy: Rose Geranium, Palmarosa, Rosalina, Lavender,Rose Maroc, Carrot Seed (EOC 1%) protective, hydrating and revitalising, rejuvenation, restores equilibrium, uplifting, aromatic luxury

Key Botanicals: Lavender Hydrosol, Rosemary Hydrosol, Aloe Vera, Glycerine, Jojoba Nut Oil, Watermelon Seed Oil, Olive Fruit (oil,squalane, waxes, esters & extracts), Non emulsified Evening Primrose Oil, Calendula Extract, Wheat Extract, (with Lavender Honey and Pink Clay)

Botanical Derivatives: Solubilisers: Caprylic/Capric Glucoside (Sugar), Preservatives: Gluconolactone (and) Sodium Benzoate, Filtrate (Corn), Sambucus Nigra Fruit Extract (Bearberry), Leuconostoc/Radish Root Ferment Filtrate (Radish); Anti Oxidant: Natural Vitamin E , Emulsifier: Olivate Sorbitan (and) Cetearyl Olivate (Olive Fruit)

Face, Neck & Décolleté
100mL
Rosy - Jojoba, Olive Fruit & Coconut - Body Cream
more info

Best For: Skin moisturising, soothing ,conditioning, antioxidant protection, and pH balance

Use: Daily or when special skin enrichment is required

Skin type: All skin types (special benefits for dry, damaged & mature)

Emulsion Properties: Antioxidant enriched medium thick slightly wet cream non greasy – pH 5

Skin Effect: Barrier forming and antioxidant enriched velvety smooth skin, non greasy, aromatic luxury

Aromatherapy: Rose Geranium, Palmarosa, Rosalina, Lavender,Rose Maroc, Carrot Seed (EOC 1%) protective, hydrating and revitalising, rejuvenation, restores equilibrium, uplifting, aromatic luxury

Key Botanicals: Lavender Hydrosol, Aloe Vera, Jojoba Nut Oil, Shea Nut Butter, Coconut Oil, Olive Oil (squalane, waxes, esters & extracts), Olive Leaf Extract, Wheat Extract, Rosehip Fruit Extract

Botanical Derivatives: Solubilisers: Caprylic/Capric Glucoside (Sugar), Guar Conditioner, Preservatives: Gluconolactone (and) Sodium Benzoate, Filtrate (Corn), Sambucus Nigra Fruit Extract (Bearberry), Leuconostoc/Radish Root Ferment Filtrate (Radish); Anti Oxidant: Natural Vitamin E (2%) , Emulsifier: Olivate Sorbitan (and) Cetearyl Olivate (Olive Fruit)

Body
200mL/250mL
Rosy in Amber - Coconut & Olive Oil with Calendula Hand (and) Body Lotion
more info

Best For: Skin moisture, soothes complexion, skin pH regulation and balance (works to restore acid mantle after washing combating dry skin ) lightly conditioning and adds an aromatic mantle to the whole body

Use: Daily after washing or cleansing

Skin type: All skin types (special benefits for dry, damaged & mature)

Emulsion Properties: Silky light liquid emulsion, easily applied to whole body and non-greasy – pH 4.5

Skin Effect: Restores skin acidity, hydrates smoothing and perfumes the skin

Aromatherapy: Rose Geranium, Palmarosa, Rosalina, Lavender, Rose Maroc (EOC 1%) protective, hydrating and revitalising, rejuvenation, restores equilibrium, uplifting, aromatic luxury

Key Botanicals: Lavender Hydrosol, Aloe Vera, Coconut Oil, Olive Oil (squalane, waxes, esters & extracts), Olive Leaf Extract, Wheat Extract, Calendula Petal Extract, Rosehip Fruit Extract

Botanical Derivatives: Solubilisers: Caprylic/Capric Glucoside (Sugar), Guar Conditioner, Preservatives: Gluconolactone (and) Sodium Benzoate, Filtrate (Corn), Potassium Sorbate; Anti Oxidant: Natural Vitamin E (1%) , Emulsifier: Olivate Sorbitan (and) Cetearyl Olivate (Olive Fruit)

Body
250mL/500mL
Rosy in Amber - Patchouli, Ginger Root and Macadamia Nut - Body Lotion
more info

Best For: skin circulation, revitalisation, nourishment and conditioning

Use: Use regularly

Skin type: All skin types

Emulsion Properties: Has a soothing and skin protective effect and is both restorative and preservative of the skin's acid mantle

Skin Effect: Easily Absorbed soothing, nourishing and hydrating and improves texture and complexion.

Aromatherapy: Patchouli, Ginger Root and Ylang Ylang and Rosy Oils which include: Rose Geranium, Palmarosa, Rosalina, Lavender and Rose Maroc.

Key Botanicals: Hydrosols: Lavender, Aloe Vera, Macadamia Nut Oil, Calendula, Glycerine, Olive Leaf Extract , Olive Oil (squalane, waxes, esters & extracts), Pro Vitamin B5, Oat, Calendula, 9Hypericum perforatum, Leuconostoc/Radish Root Ferment Filtrate, Sambucus nigra Fruit Extract, Beeswax*, Sclerotium Gum, Xanthan Gum, Potassium Sorbate, Rosemary Extract*, Vitamin E.

Body
250mL
Rosy - Olive Fruit and Shea Nut - Hand Cream
more info

Best For: Skin soothing, softening, hydration, restoration, pH balance, barrier forming ,skin strengthening, antioxidant enriched conditioning

Use: Daily or when special skin enriching is required

Skin type: All skin types (special benefits for dry, damaged & mature)

Emulsion Properties: Antioxidant enriched cream medium firm emulsion– pH 5

Skin Effect: Velvety smooth texture, strong, cool, hydrated with slightly waxy film, non-greasy and easily absorbed

Aromatherapy: Cedarwood, Carrot Seed, Rose Geranium, Palmarosa, Rosalina, Lavender Rose Maroc (EOC 1.5%) protective, hydrating, restorative and revitalising, Aromatic vivacity

Key Botanicals: Lavender Hydrosol, Aloe Vera, Jojoba Nut Oil, Shea Nut Butter, Coconut Nut Oil, Olive (oil, squalane, waxes, esters & extracts), Guar Conditioner, Calendula Extracts, Olive Leaf Extract, Oat Protein Extract (with Lavender Honey, Pro Vitamin B5 and Beeswax)

Botanical Derivatives: Solubilisers: Caprylic/Capric Glucoside (Sugar) Sucrose Cocoate (sugar and coconut), Guar Conditioner, Preservatives: Gluconolactone (and) Sodium Benzoate, Filtrate (Corn), Anti Oxidant: Rosmarinus Oleoresin Extract, Botanical Vitamin E (1%) , Emulsifier: Olivate Sorbitan (and) Cetearyl Olivate (Olive Fruit)

Hands
50mL/100mL/100mL
Rosy in Amber - Carrot Seed, Rosemary and Rosehip – Revival Cream
more info

Best For: Revitalise and restore condition to mature, dry and damaged skin.

Use: Daily use to promote natural beauty

Skin type: All Skin types (special benefits for mature, dry and damaged skin)

Emulsion Properties: Medium cream emulsion: pH 5

Skin Effect: Smooths, hydrates, stimulates cellular renewal. Balanced to support natural acidity of healthy skin.

Aromatherapy: Geranium (Pelargonium graveolen)*, Carrot Seed (Daucus carota) EOC 1.0 % Lift the spirits, regenerative, revitalising and restorative.

Key Botanicals: Rosehip Oil, Vitamin E (Natural Tocopherol 50 & Helianthus annuus (Sunflower) Seed Oil),

Face, Neck & Décolleté
100mL
Rosy in Amber - Meadow Foam Seed, Macadamia Nut and Olive Fruit - Skin Conditioning Milk
more info

Best For: Nourishing, hydrating and conditioning

Use: Use regularly on cleansed or toned skin. Prolonged use will improve skin strength, elasticity, texture and complexion

Skin type: All skin types

Emulsion Properties: Milky liquid emulsion

Skin Effect: Weightless emulsion which leaves skin feeling velvety smooth, revitalised and protected without any residual greasiness. pH 5

Aromatherapy: Lavender, Rose Geranium, Palmarosa, Rosalina and Rose Maroc Absolute EOC 1 % – Protective, hydrating, revitalizing, rejuvenation and restores equilibrium.

Key Botanicals: Hydrosols: Lavender, Rose , Aloe Vera, Meadow Foam Seed Oil, Coconut , Watermelon Seed Oil, Australian Golden Jojoba Oil, Evening Primrose Oil, Rosehip Oil, Australian Olive Oil (squalane, waxes, esters & extracts) 1% Vitamin E (Natural Tocopherol 50 & Helianthus annuus (Sunflower) Seed Oil), Gluconolactone (and) Sodium Benzoate

Face, Neck & Décolleté
100mL
Cleansers & Washes from the Collection
Product
Description and Properties
Uses
Size
Rosy in Amber - Rosalina, Aloe Vera and Lavender Honey - Face Cleansing Gel
more info

Best For: Cleansing, refreshing, refining of skin texture, pH balancing and regulating

Use: Daily

Skin Type: All skin types (special benefits for problem & oily skin)

Gel Properties: Light liquid gel – pH 5

Skin Effect: Refreshed silky clean skin with improved skin hydration, strength and texture. No after cleanse tightness.

Aromatherapy: Rose Geranium, Palmarosa, Rosalina, Lavender, Rose Maroc (EOC 0.5%) protective, hydrating and revitalising, rejuvenation, harmonising, aromatic luxury, uplifting

Key Botanicals: Lavender Hydrosol, Rosalina Hydrosol, Aloe Vera, Glycerine, Guar Gum, Olive Fruit (oil, squalane, waxes, esters & extracts),Castor Oil, Pink Clay, Rosemary Oleoresin Extract, (also Lavender Honey)

Botanical Derivatives: Solubiliser and surfactants: Caprylic/Capric Glucoside (Sugar), Sucrose Cocoate (Coconut and Sugar), Lauryl Glucoside (and) Stearyl Citrate (Sugar), Guar Conditioner: Preservatives, Gluconolactone (and) Sodium Benzoate, Potassium Sorbate.

Face, Neck & Décolleté
50mL/100mL
Rosy in Amber - Goats Milk & Aloe Vera Calendula & Rosehip Tea with Face Cleansing Milk
more info

Best For: Gentle cleanse, soothing, hydrating and lightly conditioning

Use: Daily

Skin type: All skin types (special benefits for dry, damaged & mature)

Emulsion Properties: Liquid lotion – pH 5

Skin Effect: Cleansed, smooth fresh,cool and lightly conditioned

Aromatherapy: Rose Geranium, Palmarosa, Rosalina, Lavender Rose Maroc (EOC 0.5%) protective, hydrating and revitalising, rejuvenation, harmonising, aromatic luxury, uplifting

Key Botanicals: Lavender Hydrosol, Rose Hydrosol, Aloe Vera, Glycerine, Rosehip Fruit, Calendula Petals, Oat Extract, Olive Leaf Extract (also goats milk)

Botanical Derivatives: Vitamin E, Guar Conditioner, Caprylic /Capric Glucoside (Sugar), Sucrose Cocoate (Coconut and Sugar), Coco- Glucoside (and) Glyceryl Oleate (Coconut and Sunflower); Preservatives: Gluconolactone (and) Sodium Benzoate.

Face
50mL/100mL
Rosy in Amber - Pink Clay and Olive Oil Liquid Soap - Hand (hand) Body Wash
more info

Best For: Washing hands and body, dirt and grime removal, natural sanitiser, antibacterial, personal hygiene

Use: As needed

Skin type: All soap is alkaline and use cautiously on sensitive skin. An application of cream or lotion is recommended when soap is used for cleansing to rebalance the aidity of the skin and to prevent drying out

Properties: Liquid Soap (85%) – pH 8-9

Skin Effect: Squeaky clean best followed by an application of lotion to rebalance the skins pH

Aromatherapy: Rose Geranium, Palmarosa, Rosalina, Lavender Rose Maroc Sweet Orange (EOC 2%) protective, hydrating and revitalising, rejuvenation, restores equilibrium, aromatic luxury, antibacterial

Key Botanicals: Lavender Hydrosol, Saponified Castor Oil, Saponified Olive Oil, Pink Clay, Rosemary Oleoresin Extract, Glycerine, Guar gum, Calendula extract (with Lavender Honey and Pink Clay)

Botanical Derivatives: Vitamin E, , Caprylic /Capric Glucoside (Sugar)

Hands & Body
250mL/500mL
Rosy in Amber - Rosehip and Rosalina with Aloe Vera Shower Gel
more info

Best For: Gentle cleansing, refreshing soothing and lightly conditioning

Use: Daily

Skin type: All skin types (special benefits for dry, damaged & mature)

Emulsion Properties: Medium gel – pH 5.5

Skin Effect: Cleansed, smooth and lightly conditioned

Aromatherapy: Rose Geranium, Palmarosa, Rosalina, Lavender ,Rose Maroc (EOC 1.5%) protective, hydrating and revitalising, rejuvenation, restores equilibrium, anti-bacterial, aromatic luxury, uplifting

Key Botanicals: Lavender Hydrosol, Rose hydrosol, Aloe Vera, Glycerine, Oat Extract, , Olive Leaf Extract, Calendula Extract

Botanical Derivatives: Guar Conditioner, Solubilisers and surfactants: Caprylic /Capric Glucoside (Sugar), Sucrose Cocoate (Coconut and Sugar), Coco- Glucoside (and) Glyceryl Oleate (Coconut and Sunflower); Sodium Cocoamphoacetate (Coconut), Lauryl Glucoside (Coconut & Corn) ,Disodium Cocoyl Glutamate (Coconut), Sodium Lauryl Glucose Carboxylate (Coconut & Corn), Coco-Glucoside (and) Glyceryl Oleate, (Coconut & Sunflower) Preservatives: Gluconolactone (and) Sodium Benzoate (Corn) Potassium sorbate.

Body
250mL/500mL
Rosy in Amber - Patchouli, Lavender Honey and Olive Fruit Body Wash
more info

Best For: Cleansing, refreshing, soothing and lightly conditioning

Use: Daily

Skin type: All skin types (special benefits for dry, damaged & mature)

Emulsion Properties: Medium gel – pH 7.5

Skin Effect: Cleansed, smooth and lightly conditioned

Aromatherapy: Patchouli, Rosemary T/- Verbenone, Rose Geranium, Palmarosa, Rosalina, Lavender, Rose Maroc (EOC 1.5%) protective, hydrating and revitalising, rejuvenation, restores equilibrium, aromatic luxury

Key Botanicals: Lavender Hydrosol, Rosemary Hydrosol, Saponified Castor Oil, Saponified Olive Oil, Pink Clay, Rosemary Oleoresin Extract, Glycerine, Guar Gum, Calendula extract (with Lavender Honey)

Botanical Derivatives: Vitamin E, Caprylic /Capric Glucoside (Sugar), Sucrose Cocoate (Coconut and Sugar)

Body
250mL
Toners & Mists from the Collection
Product
Description and Properties
Uses
Size
Rosy in Amber - Rosalina and Lavender Hydrosol with Witchazel - Face Toner
more info

Best For: Refines skin texture, refreshes, hydrates, strengthens and tones. Astringent, Regulates pH

Use: Daily as part of skin care regime

Skin type: All skin types

Mist Properties: Liquid, fine mist – pH 4.5

Skin Effect: Improved skin strength and texture, protective of the skins acid mantle, glowing complexion when used as part of a complete skin care regime; after cleansing and before moisturisation.

Aromatherapy: Rose Geranium, Palmarosa, Rosalina, Lavender Rose Maroc (EOC 0.5%) protective, hydrating and revitalising

Key Botanicals: Lavender Hydrosol, Rosehip Hydrosol, Rose Hydrosol, Aloe Vera, Castor Oil, Witchhazel Extract, Glycerine,

Botanical Derivatives: Preservatives: Leuconstoc/Radish Root Ferment Filtrate, Sambucus Nigra Fruit Extract, Potassium Sorbate, Solubiliser: Caprylic/Capric Glucoside (sugar)

Face, Neck & Décolleté
50mL/100mL
Rosy in Amber - Lavender and Rosehip Hydrosol with 'Rosy Essential Oils' - Hydrating Mist
more info

Best For: Aromatic luxury, hydration, rejuvenation, refreshment, skin tone and strength. Regulates pH of skin and hair

Use: As needed or Daily as part of skin care regime

Skin type: All skin types with special benefits for dry and mature skin.

Mist Properties: Astringent aromatic liquid, fine mist – pH 4.5 – 5

Skin Effect: Smooth, cool and hydrated. Protective of the skins acid mantle, luxuriously fragrant

Aromatherapy: Rose Geranium, Palmarosa, Rosalina, Lavender Rose Maroc (EOC 1.5 %) calming, harmonising, rejuvenating, revitalising uplifting and aromatically luxurious

Key Botanicals: Lavender Hydrosol, Rosehip Hydrosol

Botanical Derivatives: Preservatives:Potassium Sorbate; Solubiliser: Caprylic/Capric Glucoside (sugar)

Face, Neck & Hair
50mL/ 100mL
Rosy in Amber ◊ Rose Hydrosol, Aloe Vera with Calendula Petal Tea - Skin Revival Tonic
more info

Best For: Gentle liquid skin conditioner which will sooth and refine skin texture, refresh, hydrate, strengthen and tone. Regulates pH

Use: As needed or daily as part of skin care regime

Skin type: All skin types

Mist Properties: Liquid, fine mist – pH 4.5

Skin Effect: Improved skin strength and texture, protective of the skins acid mantle, glowing complexion

Aromatherapy: Carrot Seed, Rose Geranium, Palmarosa, Rosalina, Lavender Rose Maroc (EOC 0.5%) calming, harmonising, rejuvenating, revitalising uplifting and aromatically luxurious

Key Botanicals: Lavender Hydrosol, Rosehip Hydrosol, Rose Hydrosol, Aloe Vera, Castor Oil, Calendula Extract, Glycerine,

Botanical Derivatives: Preservatives: Leuconstoc/Radish Root Ferment Filtrate, Sambucus Nigra Fruit Extract, Potassium Sorbate, Solubiliser/emulsifier: Caprylic/Capric Glucoside (sugar)

Face, Neck & Décolleté
50 mL
Rosy In Amber - Patchouli, Palmarosa and Lavender Hydrosol - Body Mist
more info

Best For: Revitalises, soothes and tones skin. Aromatically uplifting

Use: As needed or daily as part of skin care regime

Skin type: All skin types

Mist Properties: Liquid, fine mist – pH 4-5 Gentle support to skins natural systems defence.

Skin Effect: Anti-oxidant protective of skin and stimulates and maintains skin firmness and complexion.

Aromatherapy: Rose Geranium, Palmarosa, Rosalina, Lavender Rose Maroc – protective and stimulating properties to benefit of the lasting vitality of skin

Key Botanicals: Hydrosol (96.5%): Lavender, Olive Ester and Rosemary Oleoresin Extract.

Botanical Derivatives: Preservatives: Leuconstoc/Radish Root Ferment Filtrate, Sambucus Nigra Fruit Extract, Potassium Sorbate.

Body
50mL/100mL
Rosy in Amber - Aloe Vera with Lavandin and Rosalina Hydrosol - Aloe Body Mist
more info

Best For: Refreshing, settling, soothing and toning skin after too much sun when skin is irritated, broken, dry or itchy.

Use: As needed or daily as part of skin care regime

Skin type: All skin types

Mist Properties: Liquid, fine mist – pH 4 – 5

Skin Effect: A cool satiny smooth feel that relieves and balances the skins surface. Helps to protect against the harmful and aging free radical activity

Aromatherapy: The Rosy Essential Oils (Rose Geranium, Palmarosa, Rosalina, Lavender Rose Maroc) aromatic beauty provides skin with protective properties revitalises, regenerates and refines skins texture and complexion.

Key Botanicals: Hydrosols: Lavandin, Aloe Vera, Glycerine, Olive Leaf Extract, Olive Fruit Ester, 1% Vitamin E (Natural Tocopherol 50 & Helianthus annuus (Sunflower) Seed Oil), Gluconolactone (and) Sodium Benzoate, Potassium Sorbate.

Body
250mL
Balms, Salves & Butters from the Collection
Product
Description and Properties
Uses
Size
Rosy in Amber - Shea Nut and Jojoba Wax - Skin Balm
more info

Best For: Skin condition, softening, revitalisation and protection

Use: Daily

Skin type: All skin types

Balm Properties: Firm buttery balm, easily absorbed (allow a minute or two) – pH 5.5

Skin Effect: Smooth, matt satin finish and leaves a fine occlusive film on skin surface. Not greasy once absorbed

Aromatherapy: Rose Geranium, Palmarosa, Rosalina, Lavender Rose Maroc (EOC 1%) – protective, hydrating and revitalising aromatically uplifting and luxurious

Key Botanicals: Shea Nut Butter, Jojoba Oil/Wax, Olive Fruit Oil and Extracts, Calendula Extract, Beeswax, Natural Vitamin E (2%), Corn Starch

Face, Neck - Décolleté, Hand & Body
100mL
Rosy in Amber - Rose, Coconut & Babassu Nut Skin Butter
more info

Best For: Skin condition, hydrating, softening, and nourishing

Use: Daily

Skin type: All skin types

Balm Properties: Soft buttery balm, easily absorbed (allow a minute or two) – pH 5

Skin Effect: Smooth, satin matt finish. Not greasy once absorbed. Improves skin elasticity, thickness and strength with prolonged use

Aromatherapy: Rose Otto, Rose Geranium, Palmarosa, Rosalina, Lavender, Rose Maroc (EOC 1%) Protective, hydrating, regenerative and revitalising

Key Botanicals: Raw Coconut Oil, Babassu Nut Butter, Olive Fruit Oil and Extracts, Calendula Extract, Beeswax ,Natural Vitamin E (2%), Corn Starch

 

Face, Neck, Décolleté Hands & Body
100mL
Rosy in Amber - Lip Balm
more info

Best For: Lip moisture, soothing, restoration, softening and protection

Use: Daily

Skin type: All skin types

Balm Properties: Easily absorbed (allow a minute or two), lightly waxy and buttery – pH 5

Skin Effect: Smoothing and plumping with a satin matt finish.

Aromatherapy: Rose Geranium, Sweet Orange, Cinnamon Leaf (EOC 0.25%) Restores, revitalises and protects

Key Botanicals: Shea Nut Butter, Jojoba Nut Oil, Candilillea Wax, Olive Fruit (Oil, squalane, waxes, esters & extracts), Beeswax, Calendula Extracts, Oat Extract, Natural Vitamin E

Lips
15mL
Serums, Oils & Gels from the Collection
Product
Description and Properties
Uses
Size
Rosy in Amber - GERANIUM, CARROT SEED AND MEADOW FOAM - ROSEHIP RENEWAL OIL
more info

Best For: Skin regeneration, revitalisation and may assist with the treatment of skin blemishes and visible signs of ageing.

Use: Daily or nightly or as needed as a special treatment oil

Skin type: All skin types – Special benefits for mature or damaged skin

Properties: Orange-yellow colour; medium fine plant oil, high in Vitamin A & E and essential fatty acids including oleic acid.

Skin Effect: Smooth, silky, improved skin strength, elasticity and complexion. Ideal for skin repair. Non- greasy when assimilated into the skin (allow 2-3 minutes)

Aromatherapy: Rose Geranium, Carrot Seed (EOC 1.0%) – Repair, revitalising, rejuvenation, restorative, harmonises, uplifting and aromatically luxurious

Key Botanicals: Rosehip Seed Oil, Meadow foam Seed Oil, Rosemary Oleoresin Extract, Olive Squalane and Vitamin E

Face, Neck & Décolleté
50mL
Rosy in Amber - ROSE OTTO, ARGAN AND JOJOBA - ROSE RESTORE OIL
more info

Best For: Smooths and refines skin texture, lifts complexion, hydrates, nourishes and revitalises skin processes. Good for lifting the skin condition of the T – Zone (forehead/cheeks, nose & chin) and combating visible signs of ageing. It may assist with irritated and inflamed skin conditions.

Use: Can be used daily or nightly or as a special treatment oil

Skin type: All skin types. Special benefits for dry, sensitive and mature skin.

Properties: Silky fine aromatic plant oil which is high in Vitamin A and E, Omega 9 and many EFA's including high levels of oleic, linoleic and myristic acids. Non greasy and easily assimilated into the skin. Allow a minute, or two, to fully absorb

Skin Effect: Smooth, silky, improved skin strength, elasticity and complexion

Aromatherapy: Rose Otto (EOC 0.25%) and Rose Geranium and Lavender (EOC 0.75%) protective, hydrating and revitalising, rejuvenation, restores equilibrium, aromatic luxury

Key Botanicals: Argan Nut Oil, Jojoba Nut Oil, Olive Squalane

Face, Neck & Décolleté
30mL
Rosy in Amber - MEADOW FOAM, COCONUT AND JOJOBA – SKIN ENHANCING OIL
more info

Best For: Smoothes, hydrates, nourishes, refines texture and revitalises skin processes.

Use: Can be used daily or nightly, or, a special treatment oil (massages etc.)

Skin type: All skin types. Special benefits for dry, sensitive and mature skin.

Properties: A fine, aromatic plant oil high in Vitamin A & E and essential fatty acids; Non greasy and easily assimilated into the skin. Allow a minute, or two, to fully absorb,

Skin Effect: Hydrates, softens, leaving skin silky smooth. Prolonged use improves skin strength, elasticity and complexion

Aromatherapy: Rose Geranium, Lavender, Palmarosa, Rosalina, Rose Maroc (EOC 1%) protective, hydrating and revitalising, rejuvenation, restores equilibrium, aromatic luxury

Key Botanicals: Australian Golden Jojoba Oil, Refined Coconut Oil (MCT), Natural Vitamin E

General (Face, Neck and Body)
100mL
Rosy in Amber - ROSE AND ROSEMARY HYDROSOL WITH HONEY - EYE GEL
more info

Best For: Soothes, moisturises, refines, assists with skin strength, elasticity, texture and other visible signs of ageing.

Use: Daily or periodically as needed

Skin type: All skin types

Properties: Easily absorbed, fine gel – pH 4.5

Skin Effect: Smooth skin, non-greasy, with a satin finish

Aromatherapy: Rose Geranium, Palmarosa, Rosalina, Lavender Rose Maroc (EOC 0.15%) soothing, restorative, protective, hydrating and revitalising, rejuvenation, harmonising, uplifting and aromatic luxury

Key Botanicals: Lavender Hydrosol, Rose Hydrosol, Lavender Honey, Carageenan Gum, Guar Gum, Guar Conditioner, Glycerine, Rosehip Oil, Olive Fruit (Oil squalane, waxes, esters & extracts), Natural Vitamin E

Botanical Derivatives Solubiliser: Caprylic/Capric Glucoside (Sugar); Preservatives: Gluconolactone (and) Sodium Benzoate, Potassium Sorbate

Eye Area
50mL
Rosy in Amber - ROSEHIP, ALOE VERA AND ROSE WATER - GEL TONIC
more info

Best For: Soothing, refreshing, refining texture and will assist to regulate skin acidity (pH).

Use: Daily or periodically as needed

Skin type: All skin types

Properties: Easily absorbed, fine gel – pH 4.5

Skin Effect: Smooths and refreshes the skin. Non-greasy and to achieve a satin finish used gel on cleansed skin and followed by a lotion, serum or cream. Note; this gel will dissolve and debride dry and damaged skin which may initially cause some flaking to occur. With prolonged use, as the skin's condition and texture improves, this will cease and skin strength and elasticity will be enhanced. This is a very gentle form of exfoliation.

Aromatherapy: Rose Geranium, Palmarosa, Rosalina, Lavender Rose Maroc (EOC 0.5%) soothing, restorative, protective, hydrating revitalising, rejuvenation, harmonising, uplifting and aromatic luxury

Key Botanicals: Lavender Hydrosol, Rosemary Hydrosol, Rose Hydrosol, Orange Blossom Hydrosol, Aloe Vera, Guar Gum, Guar Conditioner, Glycerine, Rosehip Granules, Olive Fruit (oil, squalane, waxes, esters or extracts), Olive Leaf Extract, Calendula Extract, Beeswax refined, Natural Vitamin E

Botanical Derivatives Solubiliser: Caprylic/Capric Glucoside (Sugar); Preservatives: Gluconolactone (and) Sodium Benzoate, Potassium Sorbate.

Face, Neck & Décolleté
100mL
ROSY IN AMBER - LAVENDER HYDROSOL WITH OATMEAL AND ALOE VERA - SKIN SOOTHER GEL
more info

Best For: Soothing, settling and refreshing skin after too much sun (when it is irritated, broken, dry or itchy.)

Use: Daily or periodically as needed

Skin type: All skin types

Properties: Easily absorbed, gentle skin gel – pH 4 – 5

Skin Effect: Softens and hydrates leaving the skins surface cooled and satiny smooth. Regulates and supports skins natural defence system and works to refine skin texture and strengthen.

Aromatherapy: Lavender, Rose Geranium, Palmarosa, Rosalina, Rose Maroc Absolute EOC 0.25 % – Revitalising and Soothing

Key Botanicals: Hydrosols: Lavender, Aloe Vera, Glycerine, Oatmeal, Olive Leaf Extract, Olive Fruit Ester,

Gluconolactone (and) Sodium Benzoate, Potassium Sorbate.

Face, Skin & Décolleté
100mL Jar
Rosy in Amber - Oat Oil with Olive Fruit and Leaf Extracts - Hydrating Serum
more info

Best For: Enriching, intensive hydration and nourishment for dry, damaged and mature skin.

Use: Daily or periodically as needed

Skin type: All skin types

Emulsion Properties:. Light but enriching Lotion – pH – 5.

Skin Effect: Hydrates and protects the skin. Supports skin elasticity, has excellent antioxidant, skin absorbing and strengthening qualities.

Aromatherapy: Lavender, Rose Geranium, Palmarosa, Rosalina, Rose Maroc Absolute (EOC 0.5 %) Soothing, restorative, protective, hydrating revitalising, rejuvenation, harmonising, uplifting and aromatic luxury.

Key Botanicals: Hydrosols: Lavender, Rosemary, Oat Oil, Meadow Foam Seed Oil, Olive Squalane, Olive Leaf Extract, Glycerine, Guar Gum, Oat Extract, Olive Ester, Aloe Vera Powder, Potassium Sorbate, Gluconolactone (and) Sodium Benzoate.

Face and Neck
50mL
Exfoliants, Scrubs & Masks from the Collection
Handcrafted Soaps from the Collection
Product
Description and Properties
Uses
Size
Rosy in Amber – Olive Oil, Coconut and Patchouli – Red Clay Soap
more info

Best For: Gently cleansing, soothing, moisturising, skin softening and revitalising

Use: As desired

Skin type: All skin types

Soap Properties: Red brown plant oil soap with good lather, – pH 8 – Minimum 8 week cure – hand crafted and cut – Long lasting aroma

Skin Effect: Refreshed clean skin without a drying out effect. Soothing, nourishing, hydrating and improves texture and complexion.

Aromatherapy: Patchouli, Ginger Root, Nerolina, Ylang Ylang; Cedarwood, Lavender, Rose Geranium Palmarosa, Rosalina and Rose Maroc Absolute (EOC 1.5 %) – stimulating, revitalising, rejuvenating, anti-bacterial and aromatically intriguing

Key Botanicals: Lavender Hydrosol, Olive Oil (60%), Shea Butter (10%), Castor Oil (5%), Coffee, Golden Jojoba (Superfat 8%), Paprika, Beetroot, with Lavender Honey

Hands and Body
120gm
Rosy in Amber – Olive Oil, Coffee Bean and Patchouli – Coffee Bean Soap
more info

Best For: Cleansing, deodorising, stimulating and exfoliating

Use: As desired

Skin type: All skin types (mildly abrasive use gentle pressure on delicate skin)

Soap Properties: Gentle lather and medium exfoliant – pH 8 – Minimum 8 weeks cure – Hand crafted and cut – long lasting aroma

Skin Effect: Smooth, soothed, soft and freshly clean

Aromatherapy: Patchouli, Ginger Root, Nerolina, Ylang Ylang; Cedarwood, Lavender, Rose Geranium Palmarosa, Rosalina and Rose Maroc Absolute (EOC 1.5 %) – stimulating, revitalising, rejuvenating, anti-bacterial and aromatically intriguing

Key Botanicals: Lavender Hydrosol, Olive Oil (95%), Castor Oil (5%), Coffee Beans, Lavender Honey, Golden Jojoba Oil (Superfat 8%), Vitamin E, Red Clay, Rye starch, Paprika, Beetroot

Hands and Body
120gm
Rosy in Amber – Patchouli, Ylang Ylang and Goats Mil k – Patchouli Milk Soap
more info

Best For: gently cleansing, reinvigorating ,nourishing, anti-microbial and aromatically uplifting

Use: As desired

Skin type: All skin types

Soap Properties: Silky smooth red brown soap with generous latherb– pH 7.5 – Hand crafted and cut – Long lasting aroma

Skin Effect: Refreshes, smooths and softens the skin. No post cleanse dry out effect

Aromatherapy: Patchouli, Ginger Root, Palmarosa, Nerolina, Ylang Ylang, Cedarwood, Lavender, Rose Geranium, Palmarosa, Rosalina, Rose Maroc Absolute (EOC 1.5%) aromatic richness, revitalising and soothing potency

Key Botanicals:, Coconut, Palm, Castor, Lavender Hydrosol, Safflower, Glycerine, Aloe Vera, Soybean, Lavender Honey, Corn, Coffee Bean, Paprika with Pink Clay and Fresh Goats Milk

Hands and Body
120gm
Rosy in Amber – Goats Milk, Coconut and Pink Clay – Goats Milk Soap
more info

Best For: Gently cleansing, soothing and revitalising, anti-microbial, deodorising and aromatically uplifting

Use: As desired

Skin type: All skin types

Soap Properties: Moisturised pale pink flecked soap with gentle lather – pH 7.5

Skin Effect: Refreshes, smooths and softens the skin. No post cleanse dry out effect

Aromatherapy: Lavender, Palmarosa, Rose Geranium, Rosalina, Rose Morac Absolute (EOC 2%) hydrating revitalising, rejuvenation, restores equilibrium and aromatically luxurious

Key Botanicals: Lavender Hydrosol, Coconut, Palm, Olive, Castor , Safflower, Glycerine, Soy, Leuconostoc/Radish Root Ferment Filtrate, Aloe Vera, Beetroot with Fresh Goats Milk and Pink Clay

Hands and Body
150gm
Rosy in Amber – Olive Oil and Rosehip Granules – Olive (and) Rosehip Soap
more info

Best For: Cleansing, antibacterial, circulation, reinvigorates complexion and body tone

Use: As desired

Skin type: All skin types

Soap Properties: Mottled dark pink soap with a gentle lather – pH 8 – Minimum 8 weeks cure – Hand crafted and cut

Skin Effect: Gently nourish and protect skin while your wash living skin smooth, soothed, soft and freshly clean

Aromatherapy: Lavender, Rose Geranium, Palmarosa, Rosalina, Rose Maroc Absolute (EOC 1.5) Calming revitalising, anti-bacterial, aromatically balancing and refreshing

Key Botanicals: Lavender Hydrosol, Olive Oil (95%), Castor Oil* (5%),Golden Jojoba Oil ( Superfat 6%), Rosehip, Calendula, Beetroot with Pink Clay

 

Hands and Body
120gm
Rosy in Amber – Jojoba and Macadamia Nut Soap
more info

Best For: Nourishing, reinvigorating and cleansing

Use: As desired

Skin type: All skin types

Soap Properties: Hard long lasting ruddy pink soap with a gentle lather – pH 8 – Minimum 8 weeks cure – Hand crafted and cut

Skin Effect: Skin softening and efficient anti-microbial protection and soothing and enlivening effect on the skin.

Aromatherapy: Lavender, Rose Geranium, Palmarosa, Rosalina, Rose Maroc Absolute (EOC 1.5) Calming revitalising, anti-bacterial, aromatically balancing and refreshing

Key Botanicals: Lavender Hydrosol, Olive Oil (60%), Coconut Oil (30%), Shea Nut Butter (7%), Castor Oil (3%), Macadamia Nut Oil, Jojoba Oil, Rosehip Oil ( superfat 8%), Corn Starch, Beetroot with Pink Clay

 

Hands and Body
120gm
Deodrants & Body Sprays from the Collection
Product
Description and Properties
Uses
Size
Rosy in Amber - Rosalina, Aloe Vera with Lavender Hydrosol - Deodorising Body Spray
more info

Best For: Underarm refreshing deodorant

Use: As required

Skin type: All skin types

Deodorant Properties: Fine hydrosol based liquid fragranced 100% with essential oils and aromatic botanical tinctures (EOC 2%) pH 4 – 4.5

Fragrance: Fresh intrigue of Rose Geranium, Palmarosa and Lavender. Sweetly refreshing with a vivacious earthy undertow

Aromatherapy: Lavender, Rose Geranium, Palmarosa, Rosalina, Rose Maroc EOC 1.5 % Antibacterial and refreshing

Key Botanicals: Hydrosols: Lavandin, Aloe Vera, Glycerine, Olive Leaf Extract, Olive Fruit Ester, 1% Vitamin E (Natural Tocopherol 50 & Helianthus annuus (Sunflower) Seed Oil), Gluconolactone (and) Sodium Benzoate, Potassium Sorbate.

Body and Under Arm
100mL
Gift Packs from the Collection
Product
Description and Properties
Uses
Size
Rosy in Amber – Pamper Gift Pack
more info

The Pamper Gift Pack includes three beautiful Rosy in Amber products: Rosy in Amber – Lip Balm – 15 mL, Rosy in Amber – Lavender and Rosehip Hydrosol with 'Rosy Essential Oils'- Hydrating Mist 100mL and Rosy in Amber – Olive Fruit and Shea Nut – Handcream – 100 mL.

Lips, Body, Hands
15mL/100mL/100mL Tube
Rosy in Amber – Luxurious Life Gift Pack
more info

The Luxurious Life Gift Pack includes three beautiful Rosy in Amber products: Rosy in Amber – Jojoba, Coconut and Rosehip – Face Cream – 100mL, Rosy in Amber – Rosalina, Aloe Vera and Lavender Honey – Face Cleansing Gel 100mL and Rosy in Amber – Rosalina and Lavender Hydrosol with Witch Hazel – Face Toner – 100mL.

Face, Neck and Décolleté
100mL Jar/100mL Bottle/100mL Bottle
Rosy in Amber - Beautiful Face Gift Pack
more info

The Beautiful Face Gift Pack includes three of our most luxurious aromatherapy creams: Rosy in Amber – Jojoba, Coconut and Rosehip – Face Cream – 100mL,Rosy in Amber – Argan, Macadamia and Rosehip Oil – Enriching Night Cream – 100mL Rosy in Amber – Argan and Coconut Oil – Eye Cream – 50 mL.

Face, Neck and Décolleté
50mL/100mL/100mL
Rosy in Amber – Joie de Vivre Gift Pack
more info

The essence of the Joie de Vivre Gift Pack is the aromatic vivacity of the rosy essential oils combined with pure and luxurious botanical ingredients such as Argan Oil, Shea Nut Butter and Golden Jojoba Oil and Lavender Hydrosol.

These are variously included in three simple but powerful personal care products including Rosy in Amber – Rose Otto, Argan and Jojoba – Rose Restore Oil – 50mL, Rosy in Amber – Lavender and Rosehip Hydrosol with 'Rosy' Essential Oils – Hydrating Mist – 100mL and Rosy in Amber – Shea Nut and Jojoba Wax – Skin Balm 100 mL.

Face and Body
50mL/100mL/100mL
The Bubble (and) Mist Gift Pack
more info

The Bubble (and) Mist Gift Pack includes two beautiful Rosy in Amber products: Rosy in Amber – Lavender and Rosehip Hydrosol with 'Rosy Essential Oils'- Hydrating Mist – 100mL and Rosy in Amber – Goats Milk, Coconut and Pink Clay – Goats Milk Soap – 150g.

 

Face and Body
100mL/150gm